Same-Day Laser Engraving & Fast Shipping!

Details

Same-Day Engraving & Free Shipping $125+

Details

FREE SHIPPING ON ORDERS $125+

Transit time for shipping is approximately 1-5 business days, depending on your location. At checkout we will provide an estimated arrival date for your order.

There is NO SHIPPING DELAY to have your stethoscope laser engraved.

Orders placed before 2:00PM EST Monday - Friday ship the same day of purchase (excludes Ultrascope). Shipping warehouse closed weekends and holidays. If an order is placed over the weekend, it will ship Monday.
3M Littmann 3200 Electronic 27" Stethoscope w/ Bluetooth
Recommended Add-Ons (Optional)
Select quantity before clicking 'Add to Cart' button
PRODUCT DETAILS
3M Littmann 3200 Electronic Stethoscope w/ Bluetooth
The 3M Littmann 3200 stethoscope combines Ambient Noise Reduction technology and frictional noise dampening features with amplification, Bluetooth® technology, and an all-new user interface, for the next level of performance and ease of use. The 3M Littmann Electronic 3200 Stethoscope delivers an exceptional auscultation experience. Clinical evidence shows that it's easier to detect difficult-to-hear heart sounds, like S3 gallops, aortic regurgitation murmurs, and abnormal lung sounds.
Stethoscope Highlights
Transmit sounds via Bluetooth® technology (Bluetooth® adaptor included – not compatible with Apple devices)
Listen remotely via 3M™ Littmann® TeleSteth™ System (sold separately)
Eliminate 85% (on average) of ambient noise.
Amplify sounds up to 24x
View your patient's heart rate on the LCD display.
Compatible with StethAssist Heart and Lung Sound Software - download here.
10+ out of 10 acoustic performance rating.
2 year warranty, made in the USA.
Laser Engraving Services
Our professional laser engraving services are avaiable on the Littmann Electronic 3200 Stethoscope. Laser engravings are performed in-house, and do not delay your order (unlike most of our competitors). Orders placed before 2PM EST Monday - Friday ship the same-day. To learn more about our inudstry leading laser engraving services, click here.
SPECIFICATIONS
Product Specifications
Applications
Cardiology/High Performance
Chestpiece Finish
Chrome
Chestpiece Technology
Single sided
Diaphragm Diameter
2 Inch
Diaphragm Material
Polyurethane-Coated Silicone
Diaphragm Type
Digital Electronic Filtering - Ambient Noise Reduction (ANR)
Eartip Type
Soft Sealing
Headset Material
Wide diameter aerospace alloy / Anodized aluminum
Length
27 Inch
Net Weight (Metric)
185g
Occupation
Anesthesiologist, Cardiologist, Emergency Physician, EMT/EMS, Family Practitioner, Internist, Medical Student, Nurse, Pediatrician, Physician, Respiratory Specialist
Performance Rating
10+
Patient
Adult, Infant, Pediatric
Warranty Period
2 years
Reviews (24)
Daniel Cartaya
|
" />
10/17/2017
I recently upgraded from the 3100. I have had it for several years. I have decreased hearing in one ear. It has always served me well. Th 3200 seems to have the same features plus the added ability to download and record the heart sounds. This would sound ideal for anyone who teachers. To record interesting heart sounds.
Kathy Dawson Carter
|
" />
07/06/2017
My new stethoscope arrived very quickly and packaged well. I am still getting used to it but really like it and I can hear so much better.
Larry O
|
" />
05/31/2017
Love this stethoscope. I am a paramedic and have trouble hearing in the back of the truck. This one is great, very clear and sharp. I highly recommend it. Ordering, processing and shipping is fast and efficient. I also purchased one for my wife who is a APRN. Great staff. Big thanks to Tom in customer service.
Catherine
|
" />
05/13/2017
This is an excellent purchase! This stethoscope is the best. I can hear clearly anthying even in noisy environment.
John Crawley
|
" />
03/30/2017
Great product. I hear breath sounds and murmurs much clearer!
Angelica Aldred
|
" />
03/30/2017
Excellent Product. Even with engraving it was delivered in 3 days.
Bobby P
|
" />
03/07/2017
I love it. It was well worth it. It allows me to hear my assessments better.
Joseph Oh, MD
|
" />
01/16/2017
Great stethoscope; price is well worth the amplification and noise cancellation technology (esp useful with crying children). Would have given it 5 stars except the warranty is only 2 years and my last one broke after about 6 years of regular use.
Len MD
|
" />
01/03/2017
Great Stethoscope!!! I was loosing my hearing because of aging. Allows me to hear the heart and lung sounds I have to hear to examine patients accurately. Highly recommend to anyone with hearing loss.
Carmen Stephenson
|
" />
01/03/2017
Just received my Littman 3200. I upgraded from the Cardiology. I am super impressed with the quality and sound. I can literally hear everything. Great use of my HSA dollars.
Therese Benoit
|
" />
12/04/2016
I have been a nurse for 9 years and just purchased my second Littmann Stethoscope. Only brand of stethoscope I will every purchase. My first one just died, and I expect this one to last 9 years or more. Thanks for such an outstanding product.
deitra wade
|
" />
11/06/2016
Excellent stethoscope for amplification. It has a volume control that is awesome. It also records the pulse rate of the patient upon auscultation and displays the reading within the window of the stethoscope. The instrument is also very good looking, very professional looking. I got mine engraved and it actually enhances the look and very nicely etched. It uses one AA battery.
deitra w.
|
" />
10/24/2016
Just received my new littmann 3200 electronic stethoscope. I love the feature where you can actual increase and lower the volume to auscultate sounds. It also will show the heart rate on the monitor window. The engraving on the stethoscope looks great as well.
Dr V
|
" />
03/12/2016
This is the best stethoscope I ever had. Amazing quality of sound. I highly recommended the Littmann 3200.
yogi
|
" />
07/13/2015
I love this stethoscope! The recording is very clear and the build quality seems very good. The engraving looks sharp!
Reneé
|
" />
03/26/2015
I absolutely LOVE this stethoscope. All my coworkers are amazed at the stethoscope and several have commented they are going to get them one like it! I love the way I can turn the volume up and down and all the extra features it has, but when all is said and done, it is an amazing Littmann product that helps the provider/nurse hear "from the patient" what they need to hear!
Paul E
|
" />
03/16/2015
Excellent acoustics. Now I just need a separate reflex hammer because I'm afraid to damage the delicate head.
Laura Sheets, RN FNP-S
|
" />
02/28/2015
I am extremely pleased with my Litmann 3200. I often have a hard time hearing with ambient noise and this product has eliminated that problem!!! MyStethoscope is located in New Jersey while I live in Texas, but despite icy weather conditions I got my stethescope within 4 business days free of shipping charges and engraved for free!! I also found the best price here!!
John Campbell, MD
|
" />
01/25/2015
Excellent stethoscope. I have been using it for 1 week and it has made such a difference. In my noise office and nursing home, I now no longer struggle to hear faint lung and heart sounds. I haven't used the recording feature yet, but I teach fellows, residents and medical students so I'm sure I will soon. Worth every penny.
James
|
" />
10/09/2014
My cardiologist has this stethoscope. He heard something and instead of trying to explain it to me, I actually got to hear it! The stethoscope has the capability to record and replay heart rhythms and sounds. It's amazing to be able to share what you hear with your patients. I think every doctor should have a stethoscope like this one.
Write a Review
Your Name:
Your Review:
Note:

HTML is not translated!
Rating:
Bad
Good
Enter the code in the box below:
WHY US?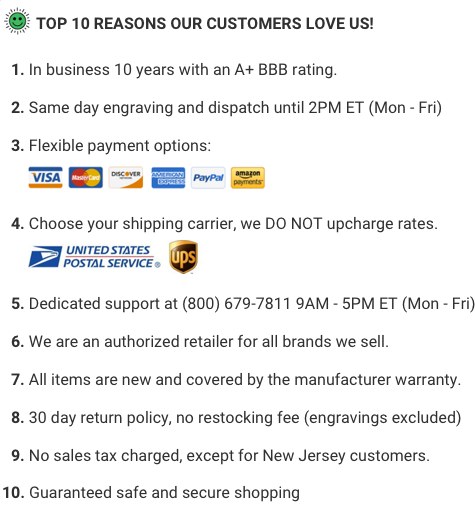 ---
PROUDLY CELEBRATING OVER 10 YEARS IN BUSINESS!
MyStethoscope.com • 33 Wood Avenue South, Suite 600, Iselin, NJ 08830 •
(800) 679-7811
•
Live Chat
---