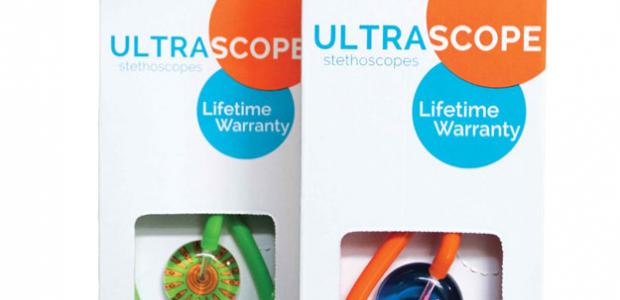 Many medical professionals when asked about UltraScopes, have never heard of the brand before. This blog post will update you on the Ultrascope Stethoscope product line and explain why it should be considered as a top contender when purchasing a new or replacement stethoscope.
UltraScope stethoscopes feature a single sided pressure sensitive acoustic head for thorough assessment and diagnosis of heart and lung sounds in both human and animal medical patients. What truly makes UltraScope stethoscopes unique, is their hand painted and engravable acrylic head which provides for excellent sound conduction. Best of all, UltraScope stethoscopes come with a lifetime warranty and replacement parts are free of charge — you simply need to contact UltraScope for replacement.
So you may be asking at this point, aside from the fancy design, what really make UltraScope so great? Our answer to your question is as follows:
Superior cardiology acoustics, even in high pressure and noisy environments (sirens, machines, crying, etc.).
Ability to hear the split S2′s and murmurs.
Excellent sound conduction. Access elderly, sleeping or burn patients through thick bandages or garments.
Veterinarian doctors can also hear through animals fur and purring.
UltraScope stethoscopes are lighter weight than many leading brand stethoscopes, weighing only 6oz.!
Customizable head designs – individually hand painted and engravabale. This can be a great distraction for anxious patients!
As you can see, UltraScope stethoscopes offer both eye appeal but also top performance. Anyone on the market for a new stethoscope, should consider an UltraScope.
MyStethoscope.com sells all models and head designs of UltraScope Stethoscopes. We also offer engraving, which is performed by UltraScope.
Click here to browse our selection of UltraScope stethoscopes and build your own! Wow your medical colleagues with a new UltraScope!