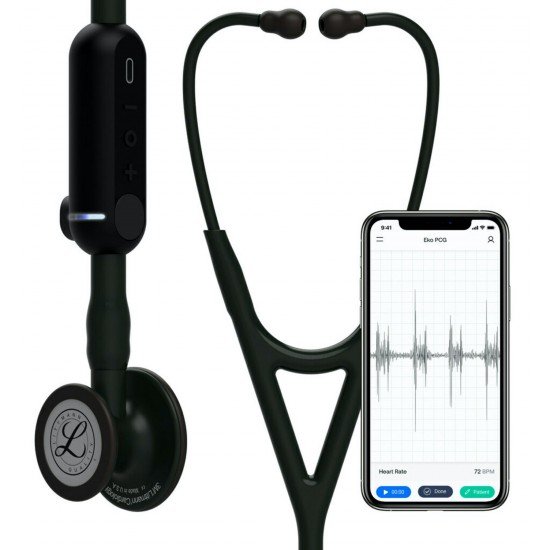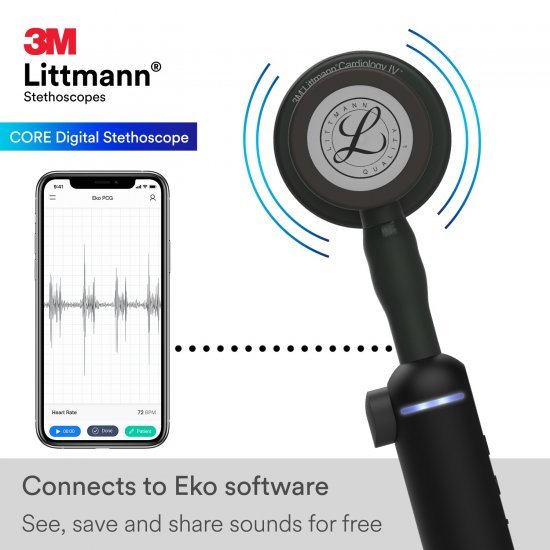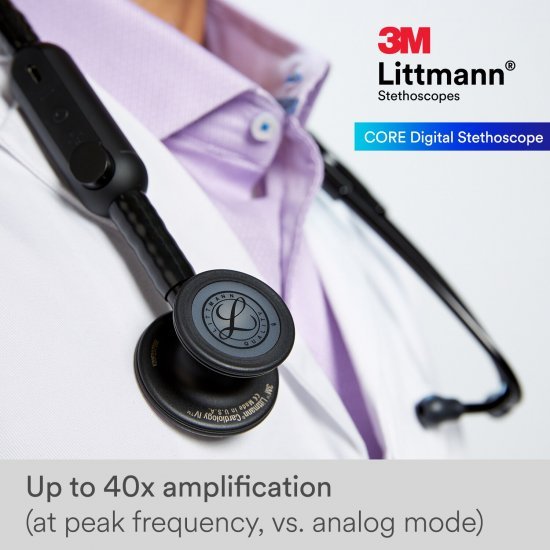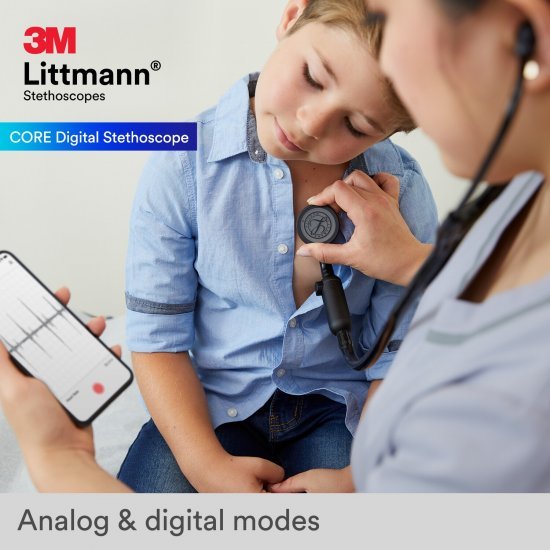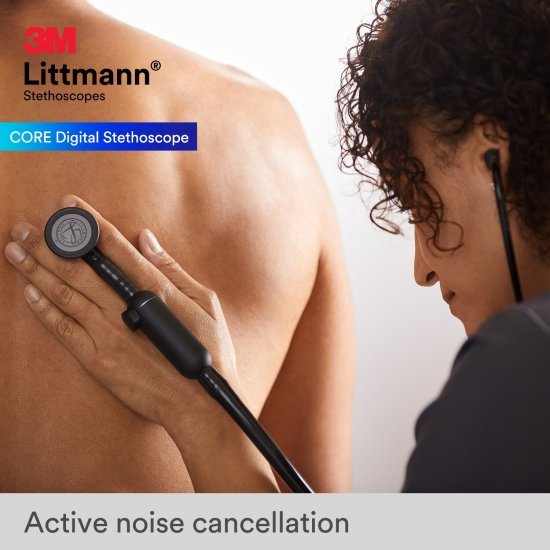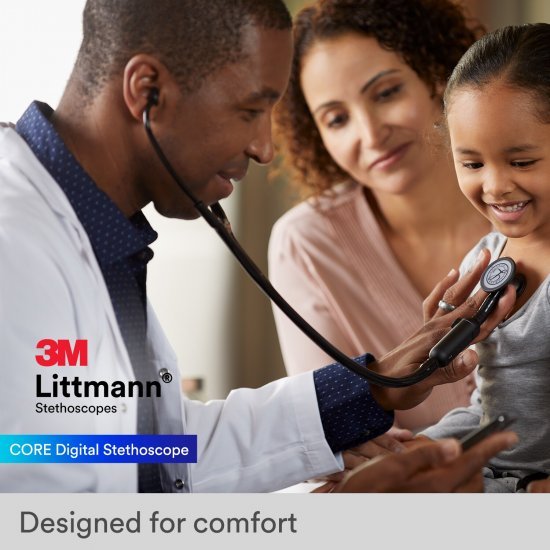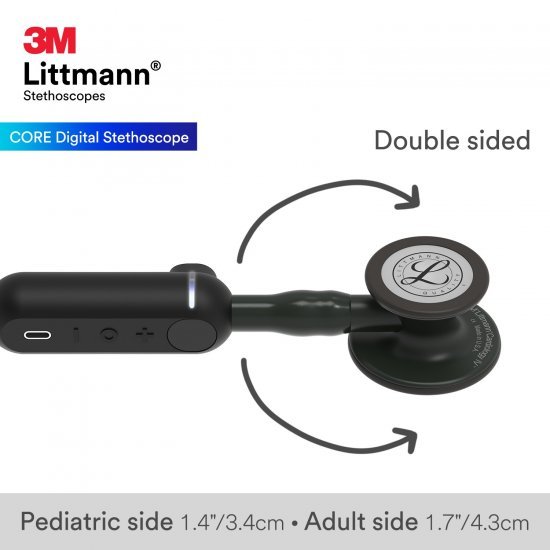 Sale Ships Free






Littmann CORE Digital Stethoscope
In Stock.
Ships by
Monday, Dec 5th
Littmann CORE Digital Stethoscope
LIMITED TIME HOLIDAY OFFER, LOWEST PRICE OF THE YEAR!
Introducing our most advanced stethoscope yet, with up to 40x amplification (at peak frequency, versus analog mode), active noise cancellation, in-app sound wave visualization and a host of other powerful new features designed to help give you a clearer picture of your patient's health. It's time to listen like never before with the comfort and confidence of a 3M™ Littmann® CORE Digital Stethoscope.

The FDA-cleared 3M Littmann CORE Stethoscope toggles between analog and amplified listening modes so you can listen how you want to during assessments. Tunable diaphragm technology—a 3M invention—lets you hear different frequency sounds by simply adjusting the pressure on the chestpiece. Hold the chestpiece with light pressure on the patient to hear low frequency sounds; press a little more to hear higher frequency sounds. Soft-sealing ear tips conform to individual ears for optimal comfort and excellent sound occlusion.
The 3M Littmann CORE Stethoscope works with Eko software on iOS and Android devices, giving you a HIPAA compliant means to save and annotate 15, 30, 60 or 120-second recordings in a secure dashboard. Create a library of heart sounds to monitor the progressions of a disease or for education, and securely share recordings with colleagues.
40X amplification based on comparison of analog versus electronically assisted amplified listening with maximum volume at the peak frequency (125 Hz).
Stethoscope Highlights
Connects to Eko software to visualize and share heart sound waveforms.
Up to 40x amplification (at peak frequency, vs. analog mode).
Active noise cancellation reduces unwanted background sounds.
Toggle between analog and amplified listening modes.
Soft-sealing ear tips provide an excellent acoustic seal and comfortable fit.
Tunable, dual-sided stainless steel chestpiece with open or closed bell.
Designed for use with adult and pediatric patients.
FDA-cleared and HIPAA compliant.
2 year warranty, made in the USA.
Stethoscope Videos
Laser Engraving Services
Our professional laser engraving services are available on the 3M Littmann CORE Digital Stethoscope. Laser engravings are performed in-house, and do not delay your order (unlike most of our competitors). Orders placed before 2PM EST Monday - Friday ship the same-day. To learn more about our industry leading laser engraving services, click here.
Authenticity Matters
MyStethoscope.com is 3M Littmann Authorized Dealer.

General
Applications
Cardiology/High Performance
Chestpiece Finish
Black
Chestpiece Technology
Double Sided
Diaphragm Diameter
1.7 Inch
Diaphragm Material
Epoxy/Fiberglass
Diaphragm Type
Tunable, single-piece
Eartip Type
Soft Sealing
Headset Material
Wide diameter aerospace alloy / Anodized aluminum
Length
27 Inch
Length
27 Inch
Net Weight (Metric)
232g
Occupation
Anesthesiologist, Cardiologist, EMT/EMS, Emergency Physician, Family Practitioner, Internist, Medical Student, Nurse, Pediatrician, Physician, Respiratory Specialist, Teacher/Professor/Instructor
Patient
Adult, Pediatric
Performance Rating
10
Small Diaphragm Diameter
1.3 Inch
Warranty Period
2 years