Same-Day Laser Engraving & Shipping!

Details

Same-Day Engraving & Free Shipping $125+

Details

FREE SHIPPING OVER $125

Orders placed before 2PM EST Monday - Friday ship the same day (excludes Ultrascope). There is NO SHIPPING DELAY on stethoscope engravings. Shipping warehouse closed weekends and holidays. If an order is placed over the weekend, it will ship Monday.
3M Littmann Classic III 27" Stethoscope
Recommended Add-Ons (Optional)
Select quantity before clicking 'Add to Cart' button
PRODUCT DETAILS
3M Littmann Classic III Stethoscope

The 3M Littmann Classic III Stethoscope is the latest version of the stethoscope that helps millions of medical professionals achieve their best. The Classic III stethoscope offers high acoustic sensitivity for exceptional performance, plus a versatile two-sided chestpiece with tunable diaphragms. The Classic III stethoscope is used by students and medical professionals alike to identify, listen to, and study heart, lung, and other body sounds for physical assessment, patient monitoring, and diagnosis.
Stethoscope Highlights
Two-sided chestpiece with tunable diaphragms on both the adult and pediatric sides.
Single-piece tunable diaphragm is easy to attach, and easier to clean because its surface is smooth without crevices.
Pediatric side converts to a traditional open bell by replacing the single-piece diaphragm with a non-chill rim.
Next-generation tubing provides longer life due to improved resistance to skin oils and alcohol; less likely to pick up stains.
Small tunable diaphragm is useful for pediatric, small, or thin patients; around bandages; and for carotid assessment.
Stainless steel chestpiece is precision-machined into an aesthetically pleasing, less angular shape. The stem features open side indicator.
Snap-tight eartips have a soft, smooth surface providing a comfortable acoustic seal and comfortable fit
7 out of 10 acoustic acoustic performance rating.
5 year warranty, made in the USA.
Laser Engraving Services
Our professional laser engraving services are avaiable on the Littmann Classic III Stethoscope. Laser engravings are performed in-house, and do not delay your order (unlike most of our competitors). Orders placed before 2PM EST Monday - Friday ship the same-day. To learn more about our inudstry leading laser engraving services, click here.
SPECIFICATIONS
Product Specifications
Applications
Physical Assessment and Diagnosis
Chestpiece Finish
Machined Stainless Steel
Chestpiece Technology
Double Sided
Diaphragm Diameter
1.7 Inch
Diaphragm Material
Epoxy/Fiberglass
Diaphragm Type
Tunable Diaphragm
Eartip Type
Soft Sealing
Headset Material
Wide diameter aerospace alloy / Anodized aluminum
Length
27.2 Inch
Net Weight (Metric)
150g
Occupation
EMT/EMS, Medical Assistant, Nurse, Nursing Student
Performance Rating
7
Patient
Adult, Pediatric
Small Diaphragm Diameter
1.3 Inch
Warranty Period
5 years
Reviews (178)
Alisha
|
" />
10/17/2017
I love mine! I just graduation from school and bought myself a gift for all of my hard work. I got my name engraved and it is absolutely beautiful. The quality is amazing in this stethoscope. It is well worth the purchase! Plus Littmann lasts a long time.
Heather Waddell
|
" />
10/17/2017
OH I LOVE MY NEW LITTMAN!!! I have been in the medical field since 1997. I have always loved the Littman stethoscope. I absolutely love my brand new Littman where I was able to design it to my own taste! I chose raspberry with the RAINBOW finish and gold. It is such a great quality stethoscope no regrets!!
Rachel Solomon
|
" />
10/09/2017
I love mine! Got it engraved and its beautiful, the engraving even shows up nicely on the black diaphragm/ bell. Highly recommend.
LINDA
|
" />
10/04/2017
I ordered the Littman classic, and had it engraved, as a gift for my granddaughter in Med school. It arrived quickly, engraving was beautiful and she loved it! As a nurse myself I appreciate the quality of this stethoscope!
S Miller
|
" />
09/29/2017
Purchased as a gift for my sone who is an advanced EMT. He loves it, and was so happy to see that his name was engraved.
Melissa S
|
" />
09/29/2017
As a first year veterinary student, the Littmann Classic 3 is perfect for the cost and versatility of the two heads. I would definitely recommend this scope for any beginning medical students
Mary Cleveland
|
" />
09/09/2017
This was a graduation gift for my grandson after completing his bachelor nursing degree. He reports the personalized engraving was exactly what he wanted. The special "rainbow"design selected, has beautiful radiant colors so vibrant it is complemented on by patients, healthcare workers and physicians. They always want to know "where I got it l. I am proud to ware it and the additional engraved as well added that over the top look. I recommend this high quality stethoscope to all my peers.
Katherine Benningfield
|
" />
09/05/2017
I purchased your Stethoscope for my daughter who is in Nursing School. She was thrilled and very pleased with her surprise. Just like what I thought it would be.
Therese Gimbert
|
" />
09/05/2017
We received them quickly and engraving looks great. The color is great option so my girl can have different colors.
Roselle
|
" />
08/11/2017
I love my new stethoscope! I chose the raspberry tubing with rainbow finish and had it engraved with my name. It is absolutely wonderful! Shipping was fast and the item was packaged well! Will definitely order again from this store when needed.
Debbie
|
" />
08/04/2017
We have received our stethoscope for our Godson's graduation on Saturday from SFU we are excited too give him this gift. We are very happy with your product and the engraving turned out awesome. I am sure Matt will be thrilled with his gift thank you!
Mary Ann
|
" />
07/27/2017
Stethoscope is excellent quality. Beautiful engraving job. Given as a gift and it was a big hit.
txrn2000
|
" />
07/27/2017
I purchased to replace my lightweight Littman, which apparently walked out of my ED around someone else's neck. I paid extra for engraving and name plate and I am 100% satisfied with the stethoscope and the speed of the processing and delivery of my order!
Niki Winters
|
" />
07/25/2017
Arrived early. Great lavender color. Great sound quality. Good laser engraving. Very lightweight.
Vanessa Valdovinos
|
" />
07/17/2017
I love love love the stethoscope I received! I ordered it in pink. Shipping was so fast! Had no trouble. I will definitely be ordering from MyStethoscope again in the future.
Lori Vazzana
|
" />
07/17/2017
I have used a Littmann classic III since medical school and I absolutely love it. I feel it is a great stethoscope for most specialties.
Lori Vazzana
|
" />
07/17/2017
I love my classic III stethoscope. It has been the one I have used since medical school.
Megan Gerst
|
" />
07/06/2017
I am currently working on my EMT certification with the plan to attend medical school in the next few years. This stethoscope, through some research, should meet all of my needs for my time as an EMT and throughout medical school. During my past few labs I have noticed a sound quality difference between the stethoscopes they provide us with and this stethoscope for taking blood pressures. I am pleased overall with the stethoscope. I do wish there were a different mechanism for converting between the pediatric and the regular bell and I worry about losing pieces since it comes apart fully.
Becca Kauffman
|
" />
07/06/2017
I received my stethoscope yesterday and am in love!!! I got the rainbow chestpiece and it is even more pretty in person! I took it to work today and the difference in being able to hear is amazing. I would highly recommend it and would definitely order again.
Ahmed Al Saedi
|
" />
06/30/2017
Excellent purchase; everything was as expected, great product quality with fast shipping
Write a Review
Your Name:
Your Review:
Note:

HTML is not translated!
Rating:
Bad
Good
Enter the code in the box below:
WHY US?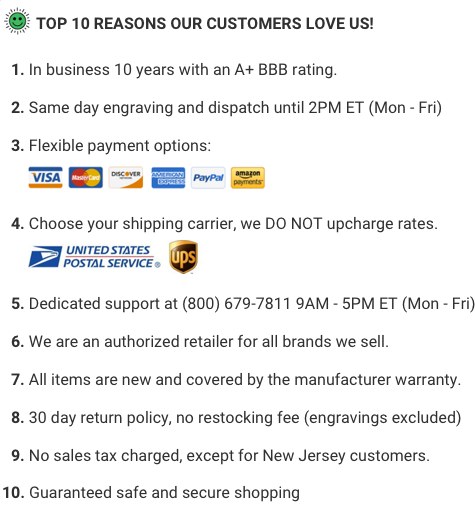 ---
PROUDLY CELEBRATING OVER 10 YEARS IN BUSINESS!
MyStethoscope.com • 33 Wood Avenue South, Suite 600, Iselin, NJ 08830 •
(800) 679-7811
•
Live Chat
---