Same-Day Laser Engraving & Shipping!

Details

Same-Day Engraving & Free Shipping $125+

Details

FREE FAST SHIPPING

Receive FREE Shipping on orders $125+. Transit time for shipping is approximately 1-5 business days, depending on your location. At checkout we will provide an estimated arrival date for your order.

There is NO SHIPPING DELAY to have your stethoscope laser engraved.

Orders placed before 2:00PM EST Monday - Friday ship the same day of purchase (excludes Ultrascope). Shipping warehouse closed weekends and holidays. If an order is placed over the weekend, it will ship Monday.
3M Littmann Cardiology IV 27" Stethoscope
Recommended Add-Ons (Optional)
Select quantity before clicking 'Add to Cart' button
PRODUCT DETAILS
3M Littmann Cardiology IV Stethoscope

The 3M Littmann Cardiology IV Stethoscope is the next generation of one of the most recognized stethoscopes in the profession, offering improved acoustic performance with better audibility of high-frequency sounds (adult side, firm pressure). Its distinctive chalice-shaped chestpiece features tunable diaphragms on both sides to deliver outstanding acoustic performance, diagnostic versatility, and convenience for treating adult and pediatric patients. The pediatric side of the chestpiece converts to a traditional open bell by removing the tunable diaphragm and replacing it with the included non-chill bell sleeve.
The Cardiology IV stethoscope isn't just for cardiologists. It is used by specialists and general practice physicians, critical care nurses, EMTs, medical students, and other healthcare professionals to identify, listen to, and study cardiac, lung, and other body sounds in adult and pediatric patients.
Stethoscope Highlights
Outstanding acoustics with better audibility of high-frequency sounds (adult side, firm pressure).
Tunable diaphragm: Hear high or low frequency sounds by slightly adjusting pressure on the chestpiece.
Dual-lumen tubing: Two sound paths in one tube eliminates the rubbing noise of traditional double tubes.
Next-generation tubing lasts longer and resists stains. Not made with natural rubber latex or phthalate plasticizers.
Headset is easily adjusted for individual fit and comfort. Angled eartubes align with ear canals.
9 out of 10 acoustic performance rating.
7 year warranty, made in the USA.
Laser Engraving Services
Our professional laser engraving services are avaiable on the Littmann Cardiology IV Stethoscope. Laser engravings are performed in-house, and do not delay your order (unlike most of our competitors). Orders placed before 2PM EST Monday - Friday ship the same-day. To learn more about our inudstry leading laser engraving services, click here.
SPECIFICATIONS
Product Specifications
Applications
Cardiology/High Performance
Chestpiece Finish
Machined Stainless Steel
Chestpiece Technology
Double Sided
Diaphragm Diameter
1.7 Inch
Diaphragm Material
Epoxy/Fiberglass
Diaphragm Type
Tunable Diaphragm
Eartip Type
Soft Sealing
Headset Material
Wide diameter aerospace alloy / Anodized aluminum
Length
27 Inch
Net Weight (Metric)
167g
Occupation
Anesthesiologist, Cardiologist, Emergency Physician, EMT/EMS, Family Practitioner, Internist, Medical Student, Nurse, Pediatrician, Physician, Respiratory Specialist
Performance Rating
9
Patient
Adult, Pediatric
Small Diaphragm Diameter
1.3 Inch
Warranty Period
7 years
Reviews (131)
Yolandia
|
" />
04/03/2018
This stethoscope is so light and easy to carry around. I can hear really clear with this product. I would rate this as being the best stethoscope I've ever used.
Hannah Bacon
|
" />
04/03/2018
Fast shipping, beautiful stethoscope, sounds great! So happy with this purchase as I start PA school.
Tressie Hansen
|
" />
03/22/2018
Shipping was super fast. Great product! Definitely worth getting your stethoscope laser engraved!
Maureen McParland
|
" />
03/21/2018
I ordered the Cardiology IV stethoscope for my son, who has been using the Cardio III during med school and will be graduating in May and entering residency. Since he is going into ER medicine, he felt it would be good to have the updated version. I thought the prices were reasonable from all of the research I had done. The engraving is great and I received my order in record time...with confirmation emails throughout the process. I think I got my money's worth. It is beautiful. Thanks for being so prompt with my order. I would definitely recommend this website to others.
Bryanna
|
" />
03/13/2018
I absolutely love my stethoscope!! I was second guessing the color but the Turquoise with Smoke Finish is BEAUTIFUL. It sounds great.
Terry
|
" />
03/13/2018
Very nice stethoscope. Works better than any stethoscope I've had. I was amazed how fast I received it.
Deanna Weber
|
" />
03/05/2018
Shipping was fast, sound quality is amazing, looks good too. Love it! Thanks!
Kate
|
" />
03/05/2018
Great stethoscope at a reasonable price! Great service and fast shipping! Thanks
Feliciann Rogers
|
" />
03/05/2018
Treated myself to the Cardiology IV. WOW. Beautiful tool to have and will hand down to my son. Amazing service. Now rebuilding my Classic II. Thank you!
Charlotte Banister
|
" />
03/05/2018
Came defective! So sad!But representatives sent me a return label and are going to send me a new one! The one I received is extremely beautiful though<3!
Michelle
|
" />
02/23/2018
Awesome, super fast service. Would definitely purchase from site again.
Chris G
|
" />
02/05/2018
Wife absolutely loved it and said she liked everything about it and how well she could hear with it.
Rebecca Risner
|
" />
02/05/2018
I could not be more happy with this purchase. I've been using a Littman Light since I was in school, and finally upgraded to the Cardiology IV. The sound quality is a huge improvement. The stethoscope came extremely quickly and the engraving was perfectly done. 5 Stars!
Tammy Greenfield
|
" />
01/30/2018
Thank you so much. I order from mystethoscope and within three days I have my stethoscope in my hands. I had it engraved with my initials and it's beautiful and I can now hear my patents better than ever. Thank you mystethoscope for everything.
Lee Ann Hampton
|
" />
01/28/2018
From beginning to end this was an amazing experience!! I ordered this wonderful high quality stethoscope for my sister! The engraving was awesome and so quick! She absolutely loved it and I will order from here again! I will also be telling all my nursing co workers and friends about your wonderful service!
Karen
|
" />
01/28/2018
Great stethoscope. Have owned a Littman Cardiology IV for over 30 years. Great company-service quick and accurate!
Siena Del Ponte
|
" />
01/19/2018
Beautiful, clear engraving. Delivered quickly. I'm excited to use it!
Jason Moore
|
" />
01/18/2018
I bought this for my girlfriend for a Christmas present and she loves it! She claims it is a huge improvement over her old one. My experience with mystethoscope.com was great! I received my product faster then they estimated and it arrived as ordered. Thank you!
Roberta
|
" />
01/09/2018
This is a great scope. Very sensitive to sounds. Had it engraved and received it the next day. Great price , as well.
Roberta
|
" />
01/09/2018
This is a great stethoscope for someone that needs it to be louder and easier to hear all the important sounds. Love it, would buy the same kind if needed again. Received it fast even with engraving on it I received it the next day.
Write a Review
Your Name:
Your Review:
Note:

HTML is not translated!
Rating:
Bad
Good
Enter the code in the box below:
WHY US?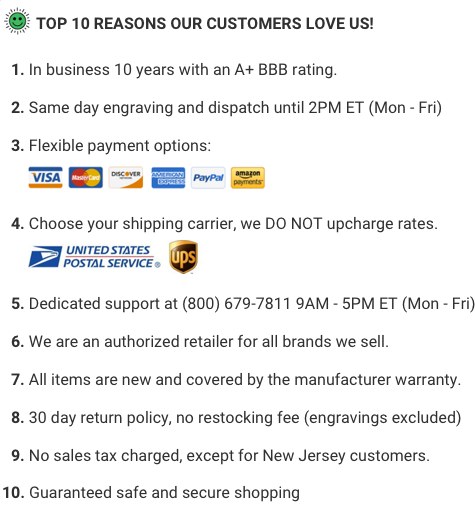 ---
PROUDLY CELEBRATING OVER 10 YEARS IN BUSINESS!
MyStethoscope.com • 33 Wood Avenue South, Suite 600, Iselin, NJ 08830 •
(800) 679-7811
•
Live Chat
---