Same-Day Laser Engraving & Shipping!

Details

Same-Day Engraving & Free Shipping $125+

Details

FREE SHIPPING OVER $125

Orders placed before 2PM EST Monday - Friday ship the same day (excludes Ultrascope). There is NO SHIPPING DELAY on stethoscope engravings. Shipping warehouse closed weekends and holidays. If an order is placed over the weekend, it will ship Monday.
3M Littmann Master Cardiology 27" Stethoscope
Recommended Add-Ons (Optional)
Select quantity before clicking 'Add to Cart' button
PRODUCT DETAILS
3M Littmann Master Cardiology Stethoscope

The 3M Littmann Master Cardiology Stethoscope is characterized by the best acoustic response in the Littmann mechanical stethoscope line; with a tunable diaphragm, dual-lumen tubing, and a precision, ergonomically designed, stainless steel chestpiece.
The Master Cardiology Stethoscope features tunable diaphragm technology—a 3M invention—that lets clinicians hear different frequency sounds by simply adjusting the pressure on the chestpiece. Unlike two-sided models, there's no need to turn over and reposition the chestpiece. Hold the chestpiece with light pressure to hear low frequency sounds; press a little more to hear higher frequency sounds. This time-saving feature allows the healthcare provider to focus on the patient, while the non-chill rim provides patient comfort.
Stethoscope Highlights
Outstanding acoustics, the highest in Littmann mechanical stethoscopes.
Tunable diaphragm: Hear high or low frequency sounds by slightly adjusting pressure on the chestpiece.
Dual-lumen tubing: Two sound paths in one tube eliminates the rubbing noise of traditional double tubes.
Headset is easily adjusted for individual fit and comfort. Angled eartubes align with ear canals.
Includes Special Procedures Adaptor for pediatric or neonatal auscultation.
10 out of 10 acoustic performance rating.
7 year warranty, made in the USA.
Laser Engraving Services
Our professional laser engraving services are avaiable on the Littmann Master Cardiology Stethoscope. Laser engravings are performed in-house, and do not delay your order (unlike most of our competitors). Orders placed before 2PM EST Monday - Friday ship the same-day. To learn more about our inudstry leading laser engraving services, click here.
SPECIFICATIONS
Product Specifications
Applications
Cardiology/High Performance
Chestpiece Finish
Polished Stainless Steel
Chestpiece Technology
Single sided
Diaphragm Diameter
1.75 Inch
Diaphragm Material
Epoxy/Fiberglass
Diaphragm Type
Tunable Diaphragm
Eartip Type
Soft Sealing
Headset Material
Wide diameter aerospace alloy / Anodized aluminum
Length
27 Inch
Net Weight (Metric)
185g
Occupation
Anesthesiologist, Cardiologist, Emergency Physician, EMT/EMS, Family Practitioner, Internist, Medical Student, Nurse, Pediatrician, Physician, Respiratory Specialist
Performance Rating
10
Patient
Adult, Infant, Pediatric
Warranty Period
7 years
Reviews (100)
David Shreckengost
|
" />
10/20/2017
The service was absolutely excellent! My stethoscope came very quickly and the quality is perfect! The engraving is beautiful and I couldn't be happier. Will definitely recommend to other medical professionals.
Debra Gibby
|
" />
10/17/2017
Ordering from MyStethoscope was so simple, online chat anaswered any questins I had, the product I purchased 9the Cardiologist Littmann Master stethoscope) is exactly what I wanted, and the color/finish options are great. I recieved my order within the time promised. Debbie
Matt
|
" />
10/06/2017
I am a new nursing student and couldn't make out much - including Korotkoff sounds - with my issued stethoscope, which cost about $45. That one worked as well as an old Sprague that I got for $15 to use in taking my own blood pressure. For $200 the Master Cardiology is a great deal and worth every penny. On my first attempt at heart and lung sounds I could hear everything that an untrained ear could possibly hear, loud and clear. I was especially impressed with ow clear the heart sounds were. I paid $10 for engraving because I heard that people will walk off with your stethoscope if they get the chance. The print is tiny and hard to read. It will be useful if you need to prove it is yours, but don't expect it to be fancy.
Giavonne Rondo Hillman
|
" />
08/25/2017
Finally rewarded myself with a "professional" stethoscope after 15 years of practice. Beautiful color, nicely engraved, great sounds and fits nicely in my coat.
Matt Fykes
|
" />
08/25/2017
Very high quality instrument. Very fast shipping and the engraving was excellent.
Gertrude Figueroa
|
" />
08/17/2017
Really great stethoscope!! Can't go wrong with a Littmann. Especially in my line of work, this is a great tool to have when listening to patients. Very good quality and worth the investment.
James Allen
|
" />
08/11/2017
After all these years of using a hand-me-down Master Cardiology Scope...I finally have my own...smokey finish beauty! Even had it engraved so it's less likely to walk away in the E.R. I love it! Thank you for the finish options.
Lizz Castellano
|
" />
08/11/2017
Absolutely thrilled with this stethescope - the acoustics are excellent and the engraving was done so well! Also this company shipped my order the same day and I received it two days later!!! Overall I'd absolutely recommend and I'm very impressed!
Lynn Sarao
|
" />
08/11/2017
I am writing to say what a fantastic Stethscope the Master Cardiology is! 27 in tubing is light wt., and the ingraving is awesome. It took 2 days to get here!!! I am very happy with it.
Theresa Glidden
|
" />
07/20/2017
I purchased the Cardiologist Littmann Master stethoscope, it was exactly what I wanted. There was a wide variety of colors, it was great to have an option. The online process was smoothe and quick. I recieved my order sooner than expected. I will definely order from here again. Thanks TG
Ben
|
" />
06/30/2017
The fastest delivery I've ever had, and engraving allowed more characters than other sites. Will definitely recommend to other medical staff
Hemal Patel
|
" />
06/27/2017
Excellent product. Was in a new package as described. The team at Mystethoscope was very helpful and shipped the product right away! I needed them in 2 days and it arrived at my door in a timely fashion. Staff was very friendly on the phone.
Nena alipio
|
" />
06/19/2017
Great stethoscope! Been using litman cardiology and it lasted 20yrs until someone tried to get its parts. Otherwise it could have lasted forever. I loved this stethoscope. I can hear heartones and breath sounds very clearly. A great investment on my profession. Money well spent
Patricia Hune
|
" />
06/16/2017
Great stethoscope, highly recommend. MyStethoscope got it to me quick and in good condition. Very pleased.
Sylvia Tuttle
|
" />
05/31/2017
Very fast shipment in perfect condition. I ordered this for my daughter per her request for her upcoming graduation as a nurse practitioner. The Master Cardiology stethoscope is the "Cadillac" of them all she told me. I order the 27" black tubing with bronze accents. I also ordered it engraved, which also turned out perfectly, & it was all finished & shipped the next day! What GREAT service! Highly recommend this company! It's nice doing business with someone who is efficient for a change! Thanks!
Marie
|
" />
05/23/2017
This is the best stethoscope. Better than the III if you were going back and forth. Can you do it with the III? Of course you can, but when you can hear it in surround sound why wouldn't you? I could hear a heartbeat in my car with the radio blaring and the AC on max with the Masters stethoscope, the III was a very faint whisper. How do I know? I ordered both at the same time. The engraving looks very professional, super happy.
Bonnie D'Amico
|
" />
05/18/2017
I love my stethoscope i got the Littman Mater Cardiology with 27 in tubing, I hear everything so crisp and so clear it is so much easier to do my job to the best of my abilities for my patients with this wonderful stethoscope. I love it.
Giavonne Rondo Hillman
|
" />
05/18/2017
Finally rewarded myself with an amazing stethoscope after 15 years of practice! Beautiful color, professional looking and can hear heart sounds much more easily than my previous ones.
Michelle Ortega
|
" />
05/08/2017
Bought this for my daughter. She loved it and could not wait to use it. She loved she had her name on it. Thanks for making a great product.
Lois
|
" />
05/08/2017
The stethoscope arrived quickly and is great! Excellent sound quality!
Write a Review
Your Name:
Your Review:
Note:

HTML is not translated!
Rating:
Bad
Good
Enter the code in the box below:
WHY US?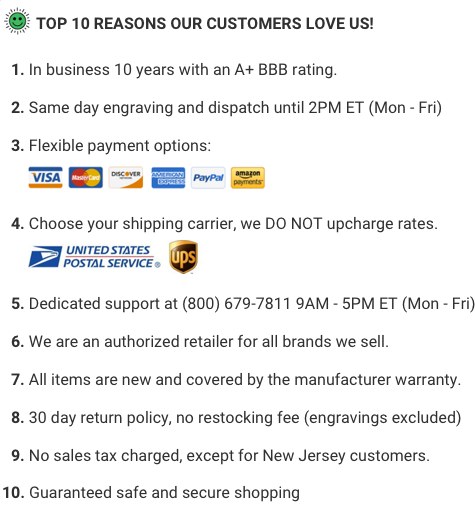 ---
PROUDLY CELEBRATING OVER 10 YEARS IN BUSINESS!
MyStethoscope.com • 33 Wood Avenue South, Suite 600, Iselin, NJ 08830 •
(800) 679-7811
•
Live Chat
---