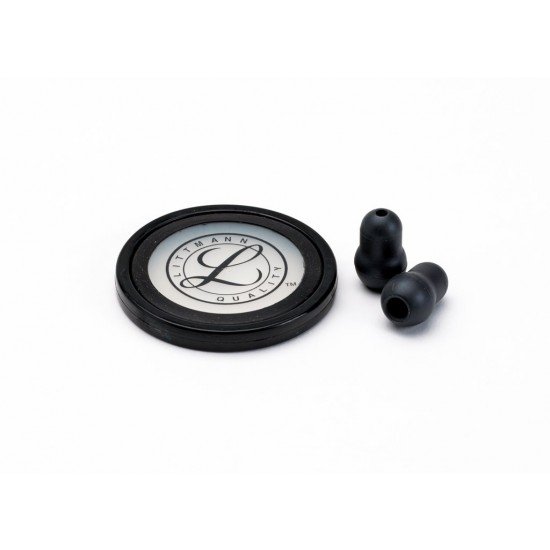 Littmann Spare Parts Kit, Master Cardiology, Black
In Stock.
Ships by
Wednesday, Dec 6th
The 3M Littmann Stethoscope Spare Parts Kit for the Master Cardiology Stethoscope is a must-have for healthcare professionals that rely on this high-performance diagnostic tool. The kit includes a black rim and tunable diaphragm for both adult and pediatric sides of the chestpiece, ensuring that you can continue to use your Master Cardiology Stethoscope with optimal acoustic performance. The kit also includes two small (1/2 inch) black Snap Tight Soft-Sealing Eartips, which provide an excellent acoustic seal, increased comfort, and a tighter fit to your stethoscope, making it easier to hear subtle sounds and diagnose your patients effectively.
This convenient kit is specifically designed to replace the parts of your Master Cardiology Stethoscope, which is known for its superior acoustic response and versatility. The Master Cardiology Stethoscope is a time-saving diagnostic tool that allows healthcare providers to focus on the patient, while the tunable diaphragm technology, a 3M invention, lets clinicians hear different frequency sounds by simply adjusting the pressure on the chestpiece. This stethoscope is a preferred choice for cardiologists and critical care nurses but also for other healthcare professionals. Having a spare parts kit on hand will give you the peace of mind that you have the parts you need to quickly replace lost or worn parts, and maintain the stethoscope's quality and reliability.