Same-Day Laser Engraving & Shipping!

Details

FREE Shipping on orders $125+

Details

FREE FAST SHIPPING

Receive FREE Shipping on orders $125+. Transit time for shipping is approximately 1-5 business days, depending on your location. At checkout we will provide an estimated arrival date for your order.

There is NO SHIPPING DELAY to have your stethoscope laser engraved.

Orders placed before 2:00PM EST Monday - Friday ship the same day of purchase (excludes Ultrascope). Shipping warehouse closed weekends and holidays. If an order is placed over the weekend, it will ship Monday.
ADC 760 Series Professional Diagnostix Blood Pressure Cuff
$
Item #: 760 Series

$3499
$39.99
ON SALE (13% OFF)
PRODUCT DETAILS
ADC 760 Series Professional Diagnostix Blood Pressure Cuff
ADC 760 Series Professional Diagnostix Blood Pressure Cuff
Conteporary black enamel 300mmHg no-pin stop manometer provides the ultimate dependability.
Adcuff nylon cuff with ADC's proprietary Size Guide marking system ensures proper cuff positioning and use of correct cuff size.
ADC Diagnostix 760 Series ADC's most popular aneroid, the 760 is the model of choice for demanding institutions.
Dip molded latex inflation bladder and bulb withstands the toughest use.
Product Information:
ADC 760 Series Professional Diagnostix Blood Pressure Cuff
Cuff includes convenient gauge holder.
Chrome plated air release valve permits precise deflation control.
Complete with leatherette zippered carrying case with nylon zipper.
Adult size available in 11 fashion colors.
Assembled, inspected, and packaged in the USA from foreign components.
Two year inflation system warranty.
Twenty year calibration warranty.
Cuff sizes:
Newborn: Measures arms 1.75-3.30in (cuff is 2 x 7.1 in long)
Infant: Measures arms 5.10-7.5 in (cuff is 3 x 10.3 in long)
Child: Measures arms 7.25-10.25 in (cuff is 4.1 x 14.5 inlong)
Adult: Measures arms 10 -16 in (cuff is 5.7 x 21.3 in long)
Large Adult: Measures arms 13.5-20 in (cuff is 6.9 x 24.9 in long)
Thigh: Measures arms 16-26 in (cuff is 8.3 x 32.5 in long)
Reviews (2)
Abby Dobberteen
|
" />
12/20/2018
I was on the fence if I needed a BP cuff but this was a great purchase. It fits all adults and even some children, producing great readings!
Darla
|
" />
04/29/2018
Purchased as a gift for my niece's HS Graduation. She is planning to go into nursing - so this will help her toward that goal. It seems like a nice BP/cuff. I think the price was right on target. Very pleased!
Write a Review
Your Name:
Your Review:
Note:

HTML is not translated!
Rating:
Bad
Good
Enter the code in the box below:
WHY US?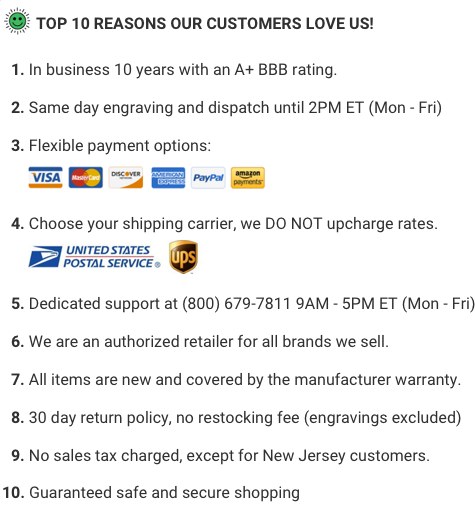 ---
PROUDLY CELEBRATING OVER 12 YEARS IN BUSINESS!
MyStethoscope.com • 33 Wood Avenue South, Suite 600, Iselin, NJ 08830 •
(800) 679-7811
•
Live Chat
---