Education at your fingertips.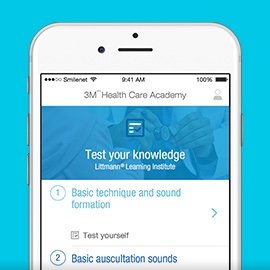 A $50 Value! Unlock exclusive training content on your mobile device that will help you improve your auscultation skills and use your stethoscope more effectively. The 3M™ Littmann® Learning Institute App includes self-paced lessons with heart and lung sounds, patient scenarios to help improve your diagnostic thinking, self-tests to track your progress, a sound library, and more.
Get the app and start training today! Here's how:
STEP 1: PURCHASE
Purchase one of the following Littmann Stethoscopes from MyStethoscope.com.
STEP 2: FIND
Find the Littmann Learning Institute App in the App Store or Google Play.
STEP 3: DOWNLOAD
Download the free app to your mobile device.
STEP 4: UNLOCK
Enter the serial number, found on your 3M™ Littmann® Stethoscope chestpiece. Please contact us 1-800-679-7811 9AM - 5PM Monday - Friday if you have issues unlocking the app.