SAME-DAY ENGRAVING & FAST SHIPPING!

Details

FREE SHIPPING OVER $125!

Transit time for FREE shipping is approximately 1-3 business days, depending on your location. Displayed product shipping estimates are based upon overnight shipping. At checkout we will provide an estimated arrival date for all available shipping methods.

There is NO SHIPPING DELAY to have your stethoscope laser engraved.

Shipping warehouse closed weekends and holidays. If an order is placed over the weekend, it will ship Monday.
Education at your fingertips.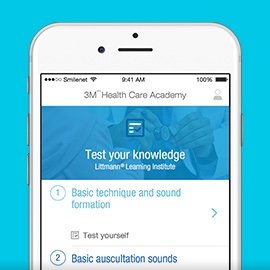 A $50 Value! Unlock exclusive training content on your mobile device that will help you improve your auscultation skills and use your stethoscope more effectively. The 3M™ Littmann® Learning Institute App includes self-paced lessons with heart and lung sounds, patient scenarios to help improve your diagnostic thinking, self-tests to track your progress, a sound library, and more.
Get the app and start training today! Here's how:
STEP 1: PURCHASE
Purchase one of the following Littmann Stethoscopes from MyStethoscope.com.
STEP 2: FIND
Find the Littmann Learning Institute App in the App Store or Google Play.
STEP 3: DOWNLOAD
Download the free app to your mobile device.
STEP 4: UNLOCK
Enter the serial number, found on your 3M™ Littmann® Stethoscope chestpiece. Please contact us 1-800-679-7811 9AM - 5PM Monday - Friday if you have issues unlocking the app.
---
---
© 2005-2019, MyStethoscope LLC, 33 Wood Avenue South, Suite 600, Iselin, New Jersey 08830,
1-800-679-7811